wish list Wednesday
October 30, 2013, 10:33 am
Filed under:
Wish List
1. The Wes Anderson Collection by Matt Zoller Seitz –
I have been a fan of Wes Anderson's work ever since a friend of mine recommended me to watch The Royal Tenenbaums a few years back. So much so, that I have actually written a 5 page report on his film style for my English Composition Class last summer. The paper not only got me an A in the class, but it also turned my professor on the his movies too. Success!
2. Q and A a Day: 5-Year Journal by Potter Style –
"365 questions, 5 years, 1,825 answers" I actually read about this on The Dainty Squid Blog the other day and thought I was an awesome way to get warmed up to writing. I have a bit of an obsession for journals, although I never know what to write about. I just draw a complete BLANK! This would get the gears cranking, even if just for a simple answer.
3. 642 Things to Draw: Journal by Chronicle Books –
Came across this beauty while at the book store a few weeks back. Every page has a suggestion of something new to draw that are more than likely not apart of your regular doodle regimen. (a rolling pin, a water tower, a wasp etc.) I feel as though this would be ideal to getting back into the habit of drawing and doodling again.
4. Lace Skull Sweater from ModCloth –
Yes. I love skulls. Yes. They are kinda cliché'. No. I don't care. With the femme-fatale design and comfy fit, this is perfect for the coming chilly weather.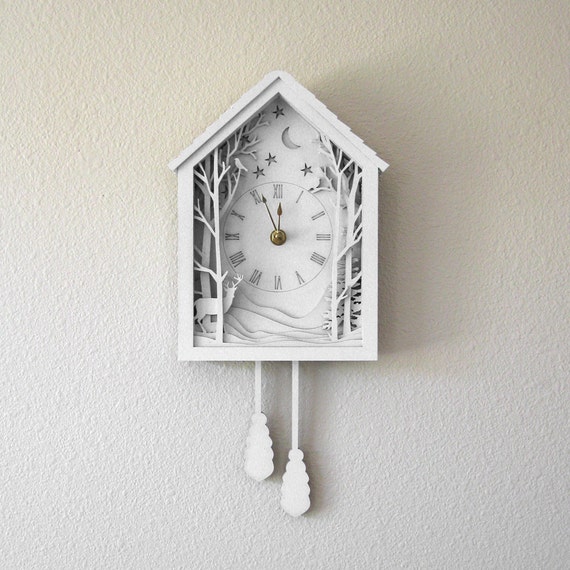 5. Cuckoo Clocks –
I have been hoping to stumble upon an excellent clock for a while now after seeing these wooden laser cut ones from FabParlor. This one reminds me of the layered paper-cut shadow boxes I admire so much. Check em' out!
That's it for today! Have a great rest of the week!